NOTE: as of September 4th, this ASTROLOGIK online course is FULL.
A waiting list has been set up in case of pre-Course dropouts (it happens);
e-mail me with a note if you want your name on the wait list.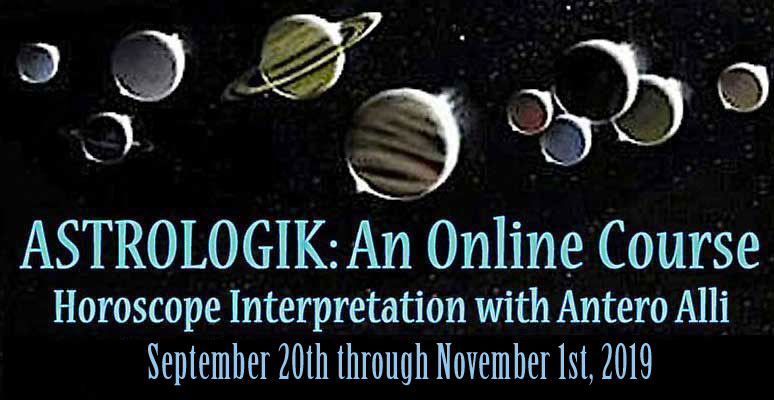 If you're new to celestial symbolism, I think you're fortunate to be starting
with ASTROLOGIK. You'll be learning 21st century astrology. If you've been
consorting with the cosmic muse for years, get ready to lose your virginity
all over again; this guy will rattle you! - STEVEN FORREST astrologer/author

"Antero Alli is the architect of a rowdy and iridescent system of astrology
that liberates and never ensnares. He can teach you to teach yourself."
- ROB BREZSNY author/astrology columnist




---

How This Course Works, Prerequisites, The Book


---




How This Course Works
Note: we will study Western Tropical Astrology (not Sidereal Vedic Astrology).


I teach this 6-week online course once a year for those motivated to learn how to interpret their own Astrology chart and the charts of others. The Astrologik course is set up for everyone to go at their own pace with no set times or dates scheduled beyond weekly assignments everyone tends to depending on motivation, time, commitment, etc. You will use your own astrology chart as a map to study the territory of your life. Every Friday you receive links to private web pages with study tasks and previously unpublished astrological insights distilled from my ongoing astrological practice (since 1980). A private, password-protected online forum is made available for group interaction and for feedback from myself. I am also available for private e-mail correspondence. Also see THE COURSE STRUCTURE section near bottom of this page. Note: no Skype, instant chat rooms, video conferencing or phone calls used in this course.


- Antero Alli

CLICK THIS FOR TESTIMONIALS
from those who have taken this course before


PREREQUISITES
This is a challenging Beginner's Course suitable for Beginning to Intermediate
levels of astrological understanding, meaning, an incomplete understanding
of the Signs, Planets, and Houses. Other prerequisites include:
1) setting aside 6 to 8 hours per week for reading & work assignments
2) a willingness to accept frustration as part of the learning process
3) an inquirying mind and a sense of humor.



TUITION/PAYMENT
$190. paid in full (US Funds only) by or before September 21st.
(non-refundable after 9/21/2018; credit can be applied to books, dvds,
future courses) Payment reserves your spot. If you have taken this course
before and wish to return, your fee is discounted 10% to $170.
Payment plans available with $100 deposit; suggest a plan that works for you.


Limited to 20 students. As of September 4th, this online course is FULL.
A waiting list has been set up in case of pre-Course dropouts (it happens);
e-mail me with a note if you want your name on the wait list.


WITH PAYPAL
There is no PayPal button. Send payment to: verticalsource@gmail.com
(e-mail me if you don't know how to do this).

WITHOUT PAYPAL
Send a postal money order or bank check payable to: Antero Alli
and send to ANTERO ALLI, PO BOX 19382, Portland OR 97280.
Include your e-mail address and a note re: ASTROLOGIK course
Please e-mail me to let me know that your payment has been sent
so I can reserve your spot. E-mail: verticalsource@gmail.com


CONFIRMATION E-MAIL
Within 48 hours of receipt of your tuition, you will receive a confirmation
"receipt of payment" e-mail. On Sept. 18th, you will receive the password
to the Forum with instructions on setting up your profile page there.






ASTROLOGIK: The Book
A limited supply of ASTROLOGIK is reserved for those enrolled in this course
and can be purchased by sending $30 within USA (or $40 to Canada and
$50 Mexico & overseas; includes shipping costs).

Note: a scanned PDF file (25MB) of ASTROLOGIK book is also available for $13;
e-mail me for details.


PayPal: There is no "PayPal button". Send payment to: verticalsource@gmail.com
Non-PayPal payments: Send postal money order or bank check, payable to:
Antero Alli and mailed to ANTERO ALLI, PO Box 19382, Portland OR 97280.
Note: no personal checks or MoneyGrams accepted.


All books are autographed. Include your return mailing address, your e-mail,
and book title with your order. The 1999 Vertical Pool edition is the one used
in this course (reference: see above cover art).


YOUR ASTROLOGY CHART
An astrology chart will be constructed for your use in this course.
Please e-mail your birth data to: verticalsource@gmail.com
BIRTH DATA: Time of birth (am or pm?), Date, Month, Year of birth
plus Place of birth (city, state/province, country).


If you have any questions, feel free to e-mail me:
verticalsource@gmail.com -- Antero



---
THE COURSE STRUCTURE
(subject to adjustments)

---
Week One: The Houses
The 12-point grid of astrological houses will be examined as a mandalic landscape of life experiences to bring greater depth of insight into the meanings of the planets, the astrological signs and the all-important Nodal Axis.


Week Two: Nodal Axis, 12 Signs as Mated Pairs & Ascendant
How the Nodal Axis (North and South Nodes of the Moon) frames the context for the whole chart through which all the planets play a part in the "story" or personal mythos of the current life. We will examine the 12 astrological signs as "mated pairs" of charged polarities as demonstrated in the ASC/DESC and MC/IC axis, with a focus on the ASCENDANT (or Rising Sign).


Week Three: The Forces of Personal Development
The personal (inner planet) forces symbolized by the Sun, Moon, Mercury, Venus, Mars, Jupiter and Saturn are interpreted through the psychological process of individuation, a progressive development of the maturing personality and Ego.


Week Four: The Transpersonal Forces of Soul Evolution
The transpersonal (outer planet) forces symbolized by astrological Uranus, Neptune and Pluto will be introduced as three distinct types of "outside shock" capable of catalyzing and accelerating transformation, spiritual awakening and humility.


Week Five: Aspects, How the Forces 'Talk' with each other
A little math (addition and subtraction) will be required to figure out the angles shared between planets on your chart to determine how they "communicate" with each other: Conjunctions, Trines, Squares, Oppositions, Quincunxes and Sextiles.


Week Six: Transits, Mapping the Timing of Change
Using the predictive technique of "Transits", we will track and map the movements of Jupiter, Saturn, Uranus, Neptune and Pluto to see how the timing of these forces might interface with our own charts and act on our daily lives.


---

BIO, ASTROLOGY READINGS, LINKS


---




(click image for astrology chart & testimonials)


Born in Helsinki Finland, 11/11/1952. In astrological practice since 1980,
Antero is the author of THE EIGHT-CIRCUIT BRAIN, ASTROLOGIK,
ANGEL TECH, THE AKASHIC RECORD PLAYER, PREGNANT UNIVERSE,
LETTERS, ESSAYS & PREMONITIONS, THE VERTICAL ORACLE, and
TOWARDS AN ARCHEOLOGY OF THE SOUL. His astrology articles
have been published in PLANET EARTH magazine and
THE MOUNTAIN ASTROLOGER magazine.


Astrology Readings
in-person (Portland OR), or nonlocal


FIVE BIG MISCONCEPTIONS ABOUT ASTROLOGY
On Busting Stereotypes and Exposing Cliches


ASTROLOGY AS AN ARCHETYPAL LANGUAGE
Or "Why the Planets Do Not Control Our Fates"